Who Should Perform Your Dental Implant Surgery?
The dental implant placement procedure is fairly complicated. It's a major surgery that should only be performed by the most talented and experienced dental implant specialists in Houston. The dental implant specialist should take particular anatomical considerations, examine your overall oral health, and ensure you're a suitable candidate for dental implants. The tiniest of miscalculations can lead to major complications or an increased risk of dental implant failure down the line. If you're looking for a dental implant specialist, you should consider the following types of professionals — general dentist, cosmetic dentist, periodontist, and oral surgeon. Dr. Jiman Nelson is a cosmetic dentist, general dentist, periodontist, and oral surgeon with specialized training in implant dentistry, making him one of the best dental implant specialists in Houston. URBN Dental is one of the most reliable dental implant centers in Houston, with state-of-the-art offices in Midtown Houston, Uptown Houston, and Montrose. For more information, please schedule an appointment online or call 346-251-8322.
Types Of Dental Implants
Before going forward, it will be great to know about different types of dental implants. According to dental experts, there are two main types of dental implants are there:
Endosteal Dental Implants
Subperiosteal Dental Implants
We have mentioned detailed information about both dental implants below which will be a help for you in understanding.
Endosteal Dental Implants:
The endosteal dental implant is the most common type of dental implant placed into the bone for help in replacing the roots of the tooth that help in supporting the artificial tooth. An endosteal Dental Implant has its types screw and blade.
Subperiosteal Dental Implants:
Subperiosteal Dental Implants are a type of implant that is employed as a metal post to create support for gums and jawbone. The Subperiosteal Dental Implants metal post helps support the artificial tooth including dental crown, dental bridges, and Dentures.
Dental Implant Placement Procedure
The dental implant placement procedure is one of the most effective ways to replace missing teeth. The dental implant is essentially a titanium post that's drilled into the jawbone underneath the missing tooth. Once the implant is in place, the body initiates a healing process known as osseointegration, which basically means your jawbone tissues fuse with the implant surface, making the titanium implant an integrated part of your dental anatomy. The titanium implant then serves as a base upon which the dental crown or denture can be mounted, replacing your missing teeth. Dental implants look, feel, and function like natural teeth.
The dental implant placement procedure is extremely complicated, and it should only be performed by the most talented dental implant specialists in Houston. Below, we provide an overview of the dental professionals who can place dental implants in Houston.
Our patients love being treated at our locations, with consistent 5-star ratings across the board.
I can honestly say I had highly recommended experience at VIP Dental Implants Houston. I am new in town and had a emergency. The staff was able to get me in asap and took very good care of me. Everyone worked as a team to ensure that all my needs were meet. I felt important! I was treated as if I was the only patient in the office. I found my Dental home!
Imelda Goodly
The staff here is extremely friendly and professional. From the very beginning, the staff greeted me with kindness and respect. My paperwork was filled out within 15 minutes and afterwards, the dentist called me back almost immediately.
Lemond Deleo
Very knowledgeable and informative, explaining all your x-ray and imagery and in creating a course of treatment. The staff is friendly and definitely concerned with their patients. Comfortable environment.
Melisa Radford
I am not the biggest fan of the dentist, however this was the BEST dentist experience I have ever had! Everyone was so kind and I got everything I needed done in one visit!
Allie Hackett
Excellent service. Great first impression! Best cleaning I've had in several years, my mouth feels amazing. They even took the time to show me how to brush more effectively. My teeth are back to being pearly white.
Michelle Campbell
They were very prompt and professional. I felt very comfortable in the visit. They have good exam specials without any hidden fees. I have found me a permanent dentist office. Thanks URBN staff.
Shayla Williams
VIP Dental Implants Houston provided great service and they were all so nice. They did a great job communicating with me and i would recommend to all.
Emmelyn Nguyen
I had a root canal and a crown done here, the entire process took about an hour. Will be back in 2 weeks for my final crown! Great doctor, great staff.
Michael John
You will likely be told about dental implant options and possibilities by your general dentist on a routine visit. The general dentist determines when a dental implant procedure might be necessary. In the past, general dentists mostly offered temporary teeth replacement options, such as dentures and dental bridges, but they're increasingly starting to offer dental implants because they're far more effective. General dentists specialize in various dental procedures, including dental implants. Furthermore, dentists handle dental implant restoration themselves, i.e., they can also place the dental crown or bridge.
Cosmetic dentists are also dental professionals with most of the same training as general dentists, but they specialize in cosmetic dental procedures, such as veneers, Invisalign, teeth whitening, dental bridges, and others. Cosmetic dentists have a unique understanding of dental anatomy from a cosmetic perspective, i.e., they understand how to improve your smile. Instead of merely improving your oral health, cosmetic dentists can also improve your smile, giving you the ideal teeth shape. You should contact cosmetic dentists specializing in dental implant procedures to ensure the most natural results with your dental implant restorations.
The dental implant placement procedure involves making a small incision on the gum tissues to access the underlying jawbone. After making the incision, the dental implant specialist drills an access hole into the jawbone to place the dental implant. As such, since the procedure involves dealing with gum tissues, it can also be performed by periodontists, i.e., the dental professional with specialized training in the modification of gum tissues. Periodontists understand complications associated with the gum tissues, so they're uniquely capable of ensuring optimal gingival health and recovery after the dental implant procedure, thus minimizing the risk of peri-implantitis.
Oral surgeons are dentists or dental professionals with advanced training in oral surgery. They are some of the most skilled dental implant specialists available because they understand how to perform surgery better than all others. Furthermore, oral surgeons are particularly capable of handling complex issues and complications that may arise during or before the dental implant procedure. If you need bone grafting before the dental implant procedure, the oral surgeon will be the ideal person to handle that issue. Your dentist will inform you if you need an oral surgeon for the procedure.
Why does tooth loss cause bone loss?
The jawbone needs teeth to continue growing. The loss of teeth leads to the gradual loss of jawbone tissues because they no longer have an impetus for growth. The loss of the jawbone leads to dental misalignment as the surrounding teeth start shifting towards the empty space. Dental implants can prevent the loss of bone tissues, thus maintaining natural jawbone integrity.
When is bone grafting necessary?
Bone grafting is necessary when you don't have enough jawbone tissues to support dental implants. You need to have a certain volume of jawbone for the implants to fuse naturally with your dental anatomy. The loss of teeth can trigger the loss of the jawbone, so if it has been a few months or years since the loss of your teeth, you may need bone grafting before the dental implant placement.
How many appointments will I need?
Most patients need 2 to 3 dental implant appointments spaced a few months apart. The first session is meant for dental implant surgery, the second session involves the abutment placement, and the third session involves the prosthetic placement. If you need bone grafting and other preliminary procedures, you may also need more sessions. Alternatively, some of the latest dental implant techniques can also be completed after one appointment — your dental implant specialist will provide a complete timeline for your dental implant procedure.
Dr. Jiman Nelson: one of the best dental implant specialist near me in Houston
– Veneers Specialist at URBN Dental –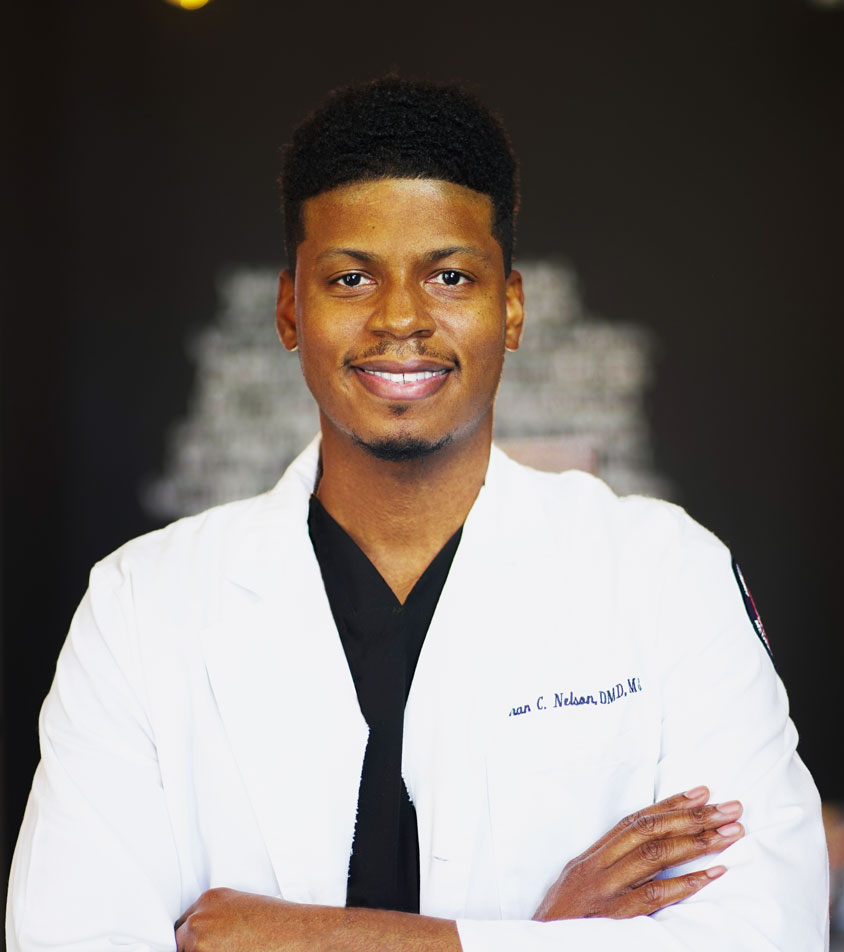 Dr. Jiman Nelson, the leading dental implant specialist at URBN Dental, is widely considered one of the best dental implant specialists in Houston. Dr. Nelson was born and raised in Jackson, Mississippi, where he developed a passionate love for aesthetic medicine, art, and science. Dental implantology proved to be the perfect confluence of his interests, allowing him to leverage his advanced dental knowledge to craft beautiful smiles for his patients. He curates personalized dental implant procedures for his patients and takes a cosmetic approach to ensure the final results enhance the patient's smile, thus improving their confidence.
Dr. Nelson completed his Master's in Biomedical Sciences, Doctor of Dental Medicine (DMD) Degree, and Residency of Advanced Education in General Dentistry at the University of Mississippi Medical Center. He moved to Houston to pursue an advanced Specialty Residency in Periodontics/Periodontal Plastic Surgery and Implantology, including a Master's of Dentistry at the University of Texas Health and Science Center, Dept. of Periodontics. He is a cosmetic dentist, general dentist, periodontist, and oral surgeon, making him one of the most skilled dentists for dental implants in Houston.
UNIVERSITY OF MISSISSIPPI MEDICAL CENTER
VENEERS SPECIALIST AT URBN DENTAL
Schedule an appointment for affordable dental implants in Houston
URBN Dental is home to one of the most talented dental implant specialists in Houston — Dr. Jiman Nelson. We use the latest and safest techniques to perform the dental implant placement procedure, ensuring safe and optimal results without complications. We also provide the All-on-4 technique, which allows us to replace all the missing teeth using as little as four dental implants placed in strategic locations on the upper or lower jaws. You can find our state-of-the-art dental implant center at 2400 Mid Ln. #350, Houston — please schedule an appointment online or call 346-251-8322.